Efest Lush Box Intelligent LED Rechargeable 18650 Battery Charger & Power Bank
Product description:
The LUSH BOX is an ultralight weight & easy carrying charger with built-in power bank feature. It can display the charging status and power percentage in real time. You can charge the batteries and your smart device simultaneously if you connect the LUSH BOX to the external power source. It has quick charging feature as well, which can charge a single battery at 2.1A rate.
18650: OKAY
20700/21700: NOT OKAY
Features:
Dual features: charger and power bank.
Capable of charging 2 batteries and 1 smart device simultaneously if using external power source.
Each of the 2 battery slots monitors and charges independently.
Auto quick charging mode: 1 x 2.1A / 2 x 1.0A.
Auto Balancing: a new advanced technology to make two batteries balanced, which can protect the batteries' cycle life.
LED indicators: show the power percentage and battery status in real time.
HD scratch resistant PC lens.
Magnetic cover & Lifting ribbon.
Over-charge prevention to protect batteries.
Reverse polarity protection.
Short-circuit protection.
Intelligent over-discharge protection.
Low voltage smart activation recovery function (below or equal to 2.7V).
Certified by RoHS, CE, & FCC.
Specifications:
Micro USB input: DC 5V 2.1A
USB output: DC 5V 2.1A
USB output floating voltage: 5.0 ~ 5.5V
Output load voltage ripple: < 200mV
USB output floating current: < 10mA
Maximum output current: 2.1A
Battery output cut-off voltage: 3.0 +/- 0.2V
Auto recharge voltage: 4.10 +/- 0.05V
Storage temperature: -40 ~ 70 degrees Celsius
Operation temperature: 0 ~ 40 degrees Celsius
Compatible with a variety of 3.6V/3.7V 18650 Li-ion batteries only.
What's Included:
1 x Efest Lush Box (batteries are not included)
1 x User manual
1 x Efest warranty card
1 x USB cable (USB adapter is not included)
1 x Retail box
---
We Also Recommend
---
Is this compatible with the imren max 40A 3200MAH (IMR 18650 3.7V) batteries?

Hi,
Thank you for asking.
Yes, the Lush Box is compatible with most of the flat top 18650 batteries.
Have a nice day.
Best Regards.
Customer Reviews
I recommend this product
Love it
It charges my vape batteries perfectly..
02/23/2021
Tracy B.

United States
I recommend this product
Very nice... Love your products...
Works great and very nice charger.
01/15/2021
SHAUNDREY M.

United States
I recommend this product
Great item!
Absolutely love this!
01/14/2021
Mary A.

United States
I recommend this product
Efest battery chargers are doing a good job
Both my husband and I are using the Efest Lush Boxes and we are pleased with the speed of charging 18650 batteries and with the built-in safety features. M&A BD Electronics shipped my order quickly and kept me informed along the way. I will definitely be a repeat customer.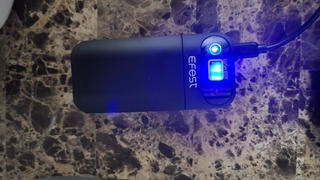 07/05/2020
JoAnne N.

United States
I recommend this product
Charger
So far I love it. Very compact and charges pretty fast.